Posted: March 29, 2018
Filed under: Anime, Art, Thoughts
Leave a comment
(Work and the lack of inspiration conspired to prevent me from posting here for some time. I hope to break that inactivity in the coming weeks starting with this post)
Anyone who says that anime is only for immature people does not know anime well enough. I've said that already here before. The long history of Japanese animation has produced a diverse range of titles, in genres often unique to it. From cooking battle shows to tentacle porn, anime is a testament to the wild imagination of the most creative culture on the planet.
And because this is Japan we are talking about – the culture that produced Zen and Superflat – it should come as little surprise that many anime titles already reach the level of literature in terms of style and substance, dealing with heavy philosophical and/or aesthetic themes with often complex story telling techniques.
This is a list of my favourites among them, works that have had a profound influence on both my philosophical and stylistic growth. The list is by no means exhaustive, and I am sure there are many great titles out there I have yet to discover which would easily fit into this list.
Revolutionary Girl Utena
I start this list with a bang. Shoujo Kakumei Utena (literally 'Girl Revolution Utena') has been described as one of the most complicated anime titles ever made. The first major work by the anime auteur Kunihiko Ikuhara (with the exception of the Sailor Moon series he only directed, every one of his works is here), the series revolves (pun intended) around the eponymous character Utena, who, and my struggle to make sense should reveal how strange this series is, enrolls in a school where she must engage in duels to defend a classmate, Himemiya Anthy, from being abused by Duelers as the Rose Bride. Initially proceeding with narrative coherence, the series descends into near-incomprehensible symbolism, involving a Student Council which receives instructions from someone named End of the World, heavy hints of abusive brother-sister incest, and a character turning into a cow. There is a movie adaptation, which is almost a completely different work altogether, and it ends with Utena becoming (literally) a sports car.
Utena is a monstrosity of a work, forcing you to retain your disbelief and instead analyze the symbolism the series is literally filled with. In that sense Ikuhara has succeeded in achieving Brechtian verfremdung where Brecht himself had failed spectacularly with Mother Courage. In typical Brechtian style Utena consists of repetitions of tropes (the damsel in distress, the duel of honour, the prince on a white horse) to reveal the metafictive character of the series, but where it diverges (and arguably why it succeeds) is in how it repeats those tropes so often and puts so many of them together to the point of absurdity, such that there isn't even any room for the lazy bourgeoisie imagination to revel in formulaic familiarity. To that end, then, Utena shows that the future of Brechtian narrative is in Theatre of the Absurd.
But to say Utena is merely a Brechtian title would be too simplistic, because it also heavily demonstrates that Russian Formalist tenet of polyphony: it is so full of symbolism that there are multiple possible interpretations of the series. I am deliberately avoiding a reading of the series here, there is a website, Empty Movement, which compiles critical essays attempting to interpret the title. Essays (properly cited and intellectually elucidated) range from the interpretation of many that it is a critique of the Shoujo genre and of societal standards of femininity in general (this is why it is considered a classic feminist work), to the eye-opening theory that it may be an allegory of Buddhist cosmology and ethics. The constant quoting the famous 'the egg is the world' line from Hermann Hesse's Demian certainly lends to the series a metaphysical bend, but the series is coherent stylistically, not didactically, demonstrating best Barthes' description of the literary work as a 'crossroads of meaning.'
Utena, as mentioned, is coherent stylistically, not meaning-wise: while I said it shows that the best way to accomplish Brechtian verfremdung is Theatre of the Absurd, it also shows that Theatre of the Absurd can also be Symbolic and Baroque. Even if it is hard to understand, Utena is a pleasure to watch because of its stylistic repetitions. The 'revolution' in the English translation of title plays on the word's dual meaning of both 'radical change and upheaval' (the literal translation of its original Japanese title, 'kakumei') and 'spinning' (reinforced by the opening song's title 'Rondo Revolution,' and the constant image of things spinning).  The image of roses is a dominant motif throughout the series, and by spinning roses around and translating the series title to French ('la fillete revolutionnaire') in the commercial credit, Ikuhara neatly reinforces the heavy allusion to the Shoujo anime classic Rose of Versailles, itself a critique of female gender roles.
Bakemonogatari series
I have written about the Bakemonogatari series here before.
Bakemonogatari follows Araragi Koyomi, an ordinary young man (in the beginning of the franchise he is in middle school) who has frequent encounters with the paranormal.
But to simply say Bakemonogatari is magical realist would be too lazy. It has the typical irony and whimsicality typical of that literary genre, but it does not dispel any emotive attempts, and instead proceeds to explore how the sense of the fantastic can still be evoked even after the genre has been exposed to the point of metafiction. In a way the metafictive element of the series disarms the viewer into a false sense of security, then proceeds to playing with silence, extreme close-up shots that obscure the whole scene, and eerie use of shadows to suddenly bring out the paranormal again.
The anime adaptation of Nishio Ishin's light novel series (this series is anything but light!) is dark minimalist, a title so heavy in dialogue it can only be deliberate. The Bakemonogatari series compels the viewer to piece the story together as it unfolds before you – the narrative is almost non-linear, and is deliberately obscured by the verbal jousting of the characters.
As I've said before, Bakemonogatari deals heavily with Nietzchean principles, from the moral ambiguity of the supernatural 'aberrations' to Nisemonogatari's deconstruction of authenticity (and the implications of that in Barthes' theory of the erotic and jouissance).
Katanagatari
Another work by Nishio Ishin, I have also written here before about Katanagatari. The title is a sword-hunting series involving Yasuri Shichika, heir to the Kyotouryu style of martial arts, and Togame, a strategist working for the Owari Shogunate who hires him to seek out twelve legendary swords.
Katanagatari, as I've written before, deals with jouissance (a consistent fascination, it seems, of Nishio Ishin), but unlike in Bakemonogatari the jouissance is treated not in terms of erotica but the way the classic Greek tragedians used it: by obscuring the action, the reader's fascination for it is heightened. As I've also said before, it also uses this denial (the name of a character in the series!) to take the discussion to the existentialist level, ending not with fulfillment but with frustration, thus becoming an allegory of life.
As a Nishio Ishin work, the series is heavy in dialogue, although unlike Bakemonogatari it does have some action. Dialogue-heavy stories is not new to the Japanese, just watch any classic Kabuki play (Kanjincho, Kanpei Harakiri, Benten Kozo, just to name a few) and you will find entire stories led by people sitting down talking. In a recent anime (I would have included here if not for there being other titles I could talk about more), Seirei no Moribito, the eighth episode is a masterpiece of narrative that demonstrates how this works in the classic sense.
In Katanagatari however Ishin treats dialogue differently: rather than being the sole driving vehicle of the story, the dialogue in the series revels at the small talk and banter, almost as if Ishin wrote the story to have an excuse to write fanservice and gags. To that end the series is metafictive like Bakemonogatari. But where Katanagatari is stronger is in its gorgeous and deliberately Rinpa-style design, further putting style over realism as its main aim. Katanagatari is much less story as it is spectacle and verbal banter.
Mawaru Penguindrum
The next Ikuhara masterpiece came out quite some time after Utena ended. Like Utena before it, Mawaru Penguindrum is difficult to give a synopsis to: brothers Kanba and Shoma Takakura live with their sickly sister Himari after they were orphaned under mysterious circumstances. Himari dies at the beginning of the series but is brought back to life with the powers of an alien penguin hat which possesses her and, using her body, tells the brother to look for the 'penguindrum.' Like Utena, the story gains some plot complexity before it descends into the absurd.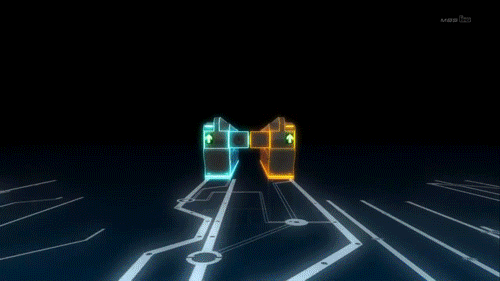 While Utena was set in a faux-European Roccoco world, Mawaru is very modern Japanese, and likewise deals with issues closer to the postmodern Japanese condition: there are heavy references to the 1995 Sarin Gas Attack in Tokyo,  there are demonstrations of parental abuse, and consistent images of dehumanization and alienation in the post-industrial age (there's a machine called 'child broiler,' where 'unwanted children' are 'disposed'). Like Utena there are also multiple allusions that lead to a polyphony of allegory, heaviest of which are references to Kenji Miyazawa's Night on the Intergalactic Railroad and Haruki Murakami's 'Superfrog Saves Tokyo.' Like Utena, it too has spawned a myriad critical essays (here is an excellent one for example)  Mawaru is rich with symbolic possibilities in its absurdity, probably more so than Utena.
The character I love best in this series was Oginome Ringo, who  seeks to fulfill her 'destiny' by following the diary her dead sister Momoka left behind. The diary is written in future tense, laying out Momoka's dreams (along with seemingly random acts apparently linked to a mysterious conspiracy to which Momoka is at least privy). Ringo and her concept are the inspirations for the eponymous character in my short story 'Arabella Raut the Eighth', which came out in Kritika Kultura in 2017.
Hyougemono
Anime has many Künstlerroman titles – whether it be something as action-packed as Yukihira Soma's growth as a cook to something as subtle as Yuurakutei Yakumo's coming-of-age as a rakugoka (more on the latter later). But I only know one work of fiction that serves as a bildungsroman for the connoisseur: Hyougemono.
A fictional account of the rise of Sengoku-era warrior and chado master Furuta Oribe, Hyougemono chronicles Furuta's struggle to balance his obsession with fine things and his life as a warrior, first under Oda Nobunaga and later under Toyotomi Hideyoshi. His growth as a man of the arts – with the guidance of the rising star Sen no Rikyu – is told against the backdrop of court intrigue within Nobunaga's ranks, and at the end of the series Furuta is made to choose between being a disciple of Rikyu or being a retainer of Hideyoshi.
Furuta, in history the originator of Oribe-yaki, is a very endearing character in Hyougemono, because one actually relates to his artistic growth: the viewer cannot help but joining him in his naivety, and later enlightenment. The series can be seen as a study of the class dynamics of Sengoku Japan, but more interestingly it charts the growth of the individual into the highly developed world of Japanese high culture.
What makes this series most striking is in how it demonstrates that in traditional Japanese culture, the artist and the connoisseur are one and the same thing (such arts as Chado and Kodo, which are more performative than they are productive, give heavy emphasis on the cultivation of the individual practitioner's taste).
Hyougemono also serves to demonstrate how much the ideal of wabi-sabi is an expression of the Buddhist dogma of the Middle Way, and how in Furuta's initial obsession with finery he has, in typical Buddhist paradox, lost sight of himself is in his self consciousness (wabi sabi, in that sense, is also very Zen). Particularly poignant is the scene where Furuta realizes his folly when he hosts a tea ceremony with a primitive theme.
Perhaps most intriguingly, Hyougemono looks at the role cultural capital played in the treacherous politics of the Sengoku and Azuchi-Momoyama periods (Rikyu's subtle goading of Hideyoshi with the single flower on the Tokonoma was brilliant), and how politics influenced the development of Chado aesthetics.
Yurikuma Arashi
In this list, Ikuhara's latest work (his shortest to date) is the work I had the hardest time penetrating (this time, any possible puns unintended). Yurikuma Arashi is, if anything, even denser than Utena and Mawaru, because where those two begin with some semblance of plot comprehensibility, it descends into the absurd early on. Yurikuma Arashi follows Kureha, a student in Arashigaoka Academy, living in a world dominated by a large wall called the Wall of Severance. The wall was set up to separate humans from alien bears, who eat humans. The series also follows two of these bears, Ginko and Lulu, who infiltrate the human world and enroll in Arashigaoka. As Ginko befriends Kureha, a mysterious force looms over the characters, the Invisible Storm, and tensions of identity and sexual determination emerge.
Where the lesbian undertones are only implied in Utena and Mawaru, female homoeroticism takes center-stage in Yurikuma (Yuri, literally 'lily,' is of course the genre name of lesbian anime). There are almost no male characters, and the main characters frequently engage in sexual behaviour with one another, often to the point of glorious camp (Ikuhara is a master of camp): in one transformation scene, Ginko and Lulu are depicted licking nectar oozing from the petals of a glowing lily emerging from a naked Kureha's groin.
Consequently, unlike Utena and Mawaru Yurikuma's allegory, while denser to penetrate than those two, is nevertheless almost singularly directed at the critique of female gender roles. It is a testament to its intellectual complexity that Anime News Network's episode reviews of the series (competently written by Gabriella Ekens) serve more to discuss it rather than give feedback to it (it is a must-read when watching the anime).
Show Genroku Rakugo Shinju
One of the best anime titles released in the past decade, Showa Genroku Rakugo Shinju is a romance Künstlerroman based on the manga by Haruko Kumota, dealing with the traditional Japanese performing art of Rakugo.
Showa Genroku follows Yuurakutei Yakumo, the holder of a prestigious name in Rakugo, as he takes on a young ex convict named Kyoji as his apprentice at a time when the art is struggling. Yakumo's past as Kikuhiko (his first stage name), his initial reluctance to do Rakugo, and the tragic past that led to his assuming the name, are revealed throughout the two-part series.
The title is as much about Yakumo's sexuality as it is about Rakugo and its aesthetics (those two are intimately linked). His early repressed sexual attraction to fellow Rakugo disciple Sukeroku, his inability to respond to the erotic advances of the geisha Miyokichi, and the bitterness born of Miyokichi's affair with Sukeroku all make this at once a cerebral and carnal series.
But where Kikuhiko dies inside because of his frustrated sexuality, he blossoms artistically as he finds his voice as a rakugoka in depicting the sensual. It is a stroke of artistic genius for Kumota to set Kikuhiko's artistic (and sexual) awakening at a farcical performance of the Kabuki play Benten Kozo, in which he plays the eponymous character, a famous icon of sexual ambiguity. As a fan more of Kabuki than Rakugo, the series definitely taught me a deeper appreciation of that art form, which I had initially taught was just a form of standup comedy. Rakugo, it turns out, is just as subtle and complex in its standards as Kabuki is, and the case of Kunihiko demonstrates how, just like in Kabuki,  individuality plays a key role in the artist's inheritance of a repertoire of performances performed for centuries.
I consider myself a benign snob, and these titles, remarkably cerebral for a medium often dismissed as 'children's entertainment,' were practically made for me. It would be an understatement to say I recommend these titles to anyone.
---